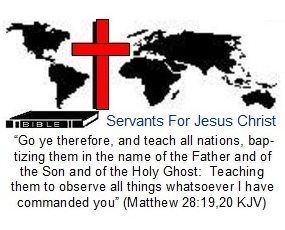 Secure Donation To: Servants For Jesus Christ Ministry
Click on Light Blue Donate Button Below For A Secure One Time Credit/Debit Card Web Donation to: Servants For Jesus Christ 501C Ministry USA Organization.  You will be emailed a confirmation of your donation!  If you click on the Light Blue button on smartphones and tablets, you will see a grey area at the top of your screen.  Use your finger to slide up and down on the screen for the fields and the amount you want to donate!    Thank you!
For Web Donations please use Safari, Edge, Chrome or FireFox Web Browsers as your donation transaction is secure.   Internet Explorer Web Browser is out of date and does not support TLS 1.2 credit card transactions being so old.
For one time web donation please click on the light blue button above.
Donations By Check or Money Order, please Mail to address below: (For donation checks please make them out to "Servants For Jesus Christ" and you can click on our Donation Policy link for more information! Thank you!)
Servants For Jesus Christ
P.O. Box 200
Niagara Falls, NY, 14304
Servants For Jesus Christ is a 501 C3 registered non-profit organization in the USA.  You can print off your donation reports online for donors everywhere when you have an online account with us. Donation Receipts for Income Tax Purposes are given for US Donors.
Please pray about donating to this ministry.  You may choose to mail in a check to the address above or click on the donate button and pray about how much the Lord wants you to give to this ministry.  Thank you and God Bless you. We pray for God's grace to help you do the will of God in your life as you study the Holy Bible every day to receive forgiveness, joy, grace, love and peace from the Lord Jesus Christ!